WINDOW TINTING & LIGHT TINTING
| WINDOW TINTING | PRICES START FROM |
| --- | --- |
| 3-DOOR CAR ALL REAR WINDOWS | 189€ |
| SEDAN (5-DOOR) ALL REAR WINDOWS | 279€ |
| WAGON ALL REAR WINDOWS | 279€ |
| VAN ALL REAR WINDOWS | 179€ |
| FRONT DOOR WINDOWS | 149€ |
| WINDSHIELD | 179€ |
| LIGHT TINTING | PRICES START FROM |
| --- | --- |
| HEADLIGHTS | 149€ |
| TAILLIGHTS | 169€ |
| FULL WRAP | PRICES START FROM |
| --- | --- |
| 3-DOOR CAR FULL WRAP | 2790€ |
| SEDAN (5-DOOR) FULL WRAP | 2890€ |
| WAGON FULL WRAP | 2990€ |
| VAN FULL WRAP | 3290€ |
| PARTIAL CAR WRAP | PRICES START FROM |
| --- | --- |
| ROOF WRAP | 199€ |
| MIRROR WRAP | 89€ / PCS |
| HOOD WRAP | 199€ |
| DIFFUSER WRAP | 79€ |
| CHROME DELETE | PRICES START FROM |
| --- | --- |
| WINDOW TRIMS WRAP | 289€ |
| GRILLE WRAP | 89€ |
| ROOF RAILS WRAP | 189€ |
| CAR INTERIOR WRAP | PRICES START FROM |
| --- | --- |
| DOOR PANELS | 149€ |
| DASHBOARD | 129€ |
| CENTER CONSOLE | 129€ |
PAINT PROTECTION FILM / PPF
| PAINT PROTECTION FILM | PRICES START FROM |
| --- | --- |
| ROCKER PANELS | 299€ |
| HOOD | 499€ |
| FRONT BUMPER | 599€ |
| MIRRORS | 109€ / PCS |
| DOOR SILLS | 89€ / PCS |
| REAR BUMPER DECK | 99€ |
| FULL CAR | GLOSS PPF 4999€ | MATTE PPF 5499 € |
| LIGHT PROTECTION WITH PPF | PRICES START FROM |
| --- | --- |
| HEADLIGHTS | 129€ |
| TAILLIGHTS | 139€ |
| CLEARPLEX | PRICES START FROM |
| --- | --- |
| CLEAR WINDSHIELD PROTECTION FILM | 399€ |
CERAMIC COATING AND CAR POLISHING
| POLISHING / GRINDING | PRICES START FROM |
| --- | --- |
| CAR POLISHING | 149€ |
| USED CAR "MINT" POLISHING | 499€ |
| HEAD/TAILLIGHT RESTORATION / POLISHING | 99€ / PCS |
| CERAMIC COATING | PRICES START FROM |
| --- | --- |
| CERAMIC COATING (2-3y GUARANTEE) | 599€ |
| GLASS COATING ON WINDSHIELD | 169€ |
| GLASS COATING ON ALL WINDOWS | 279€ |
| CERAMIC COATING ON LEATHER INTERIOR | 399€ |
| RIM COATING 4 PCS | 299€ |
* Before applying the ceramic coating, the car must be thoroughly prepared by polishing. The price of polishing depends on the car's paint surface condition (amount of scratches and holograms). In other words, at least one step of polishing (starting at 149€) is always done when the customer wants a ceramic coating. If it is a brand-new car straight from the dealership, the starting price is 599€ + 149€ = 748€
COMMERCIAL & RESIDENTIAL WINDOW FILM
| WINDOW FILM | PRICES (1 m²) |
| --- | --- |
| SUN PROTECTION FILM | 89€ |
| REFLECTIVE 'MIRROR' FILM | 89€ |
| MILK GLASS FILM / FROST FILM | 89€ |
| SECURITY / BURGLARY PROTECTION FILM | 99€ |
* Above mentioned 'turnkey' prices for 1 m² include materials and installation, as well as a certified warranty certificate. Additional costs are added if the installation requires rent of a crane or scaffold. The demand/features of the object also affect the price.
Tesla Model 3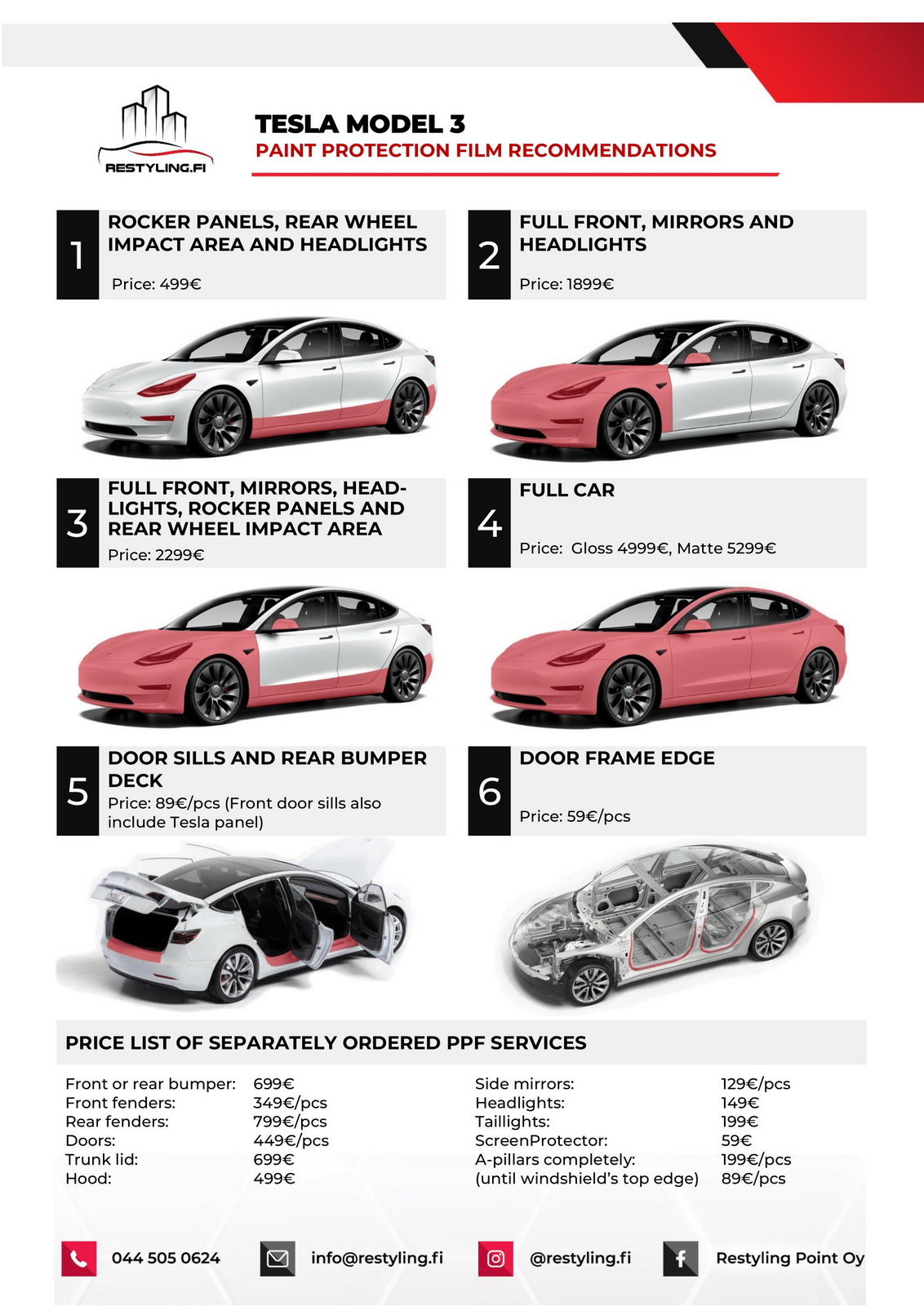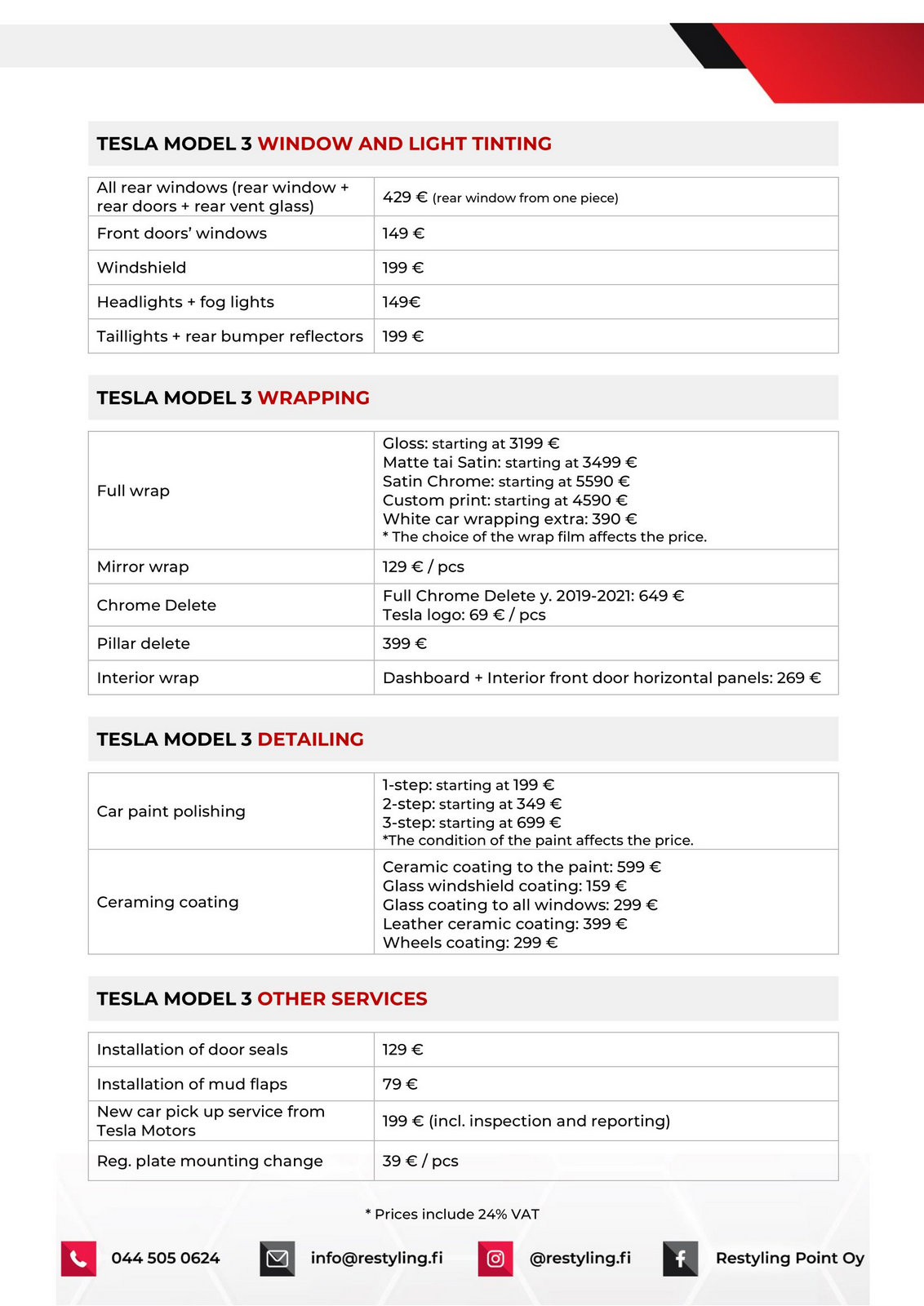 Tesla Model Y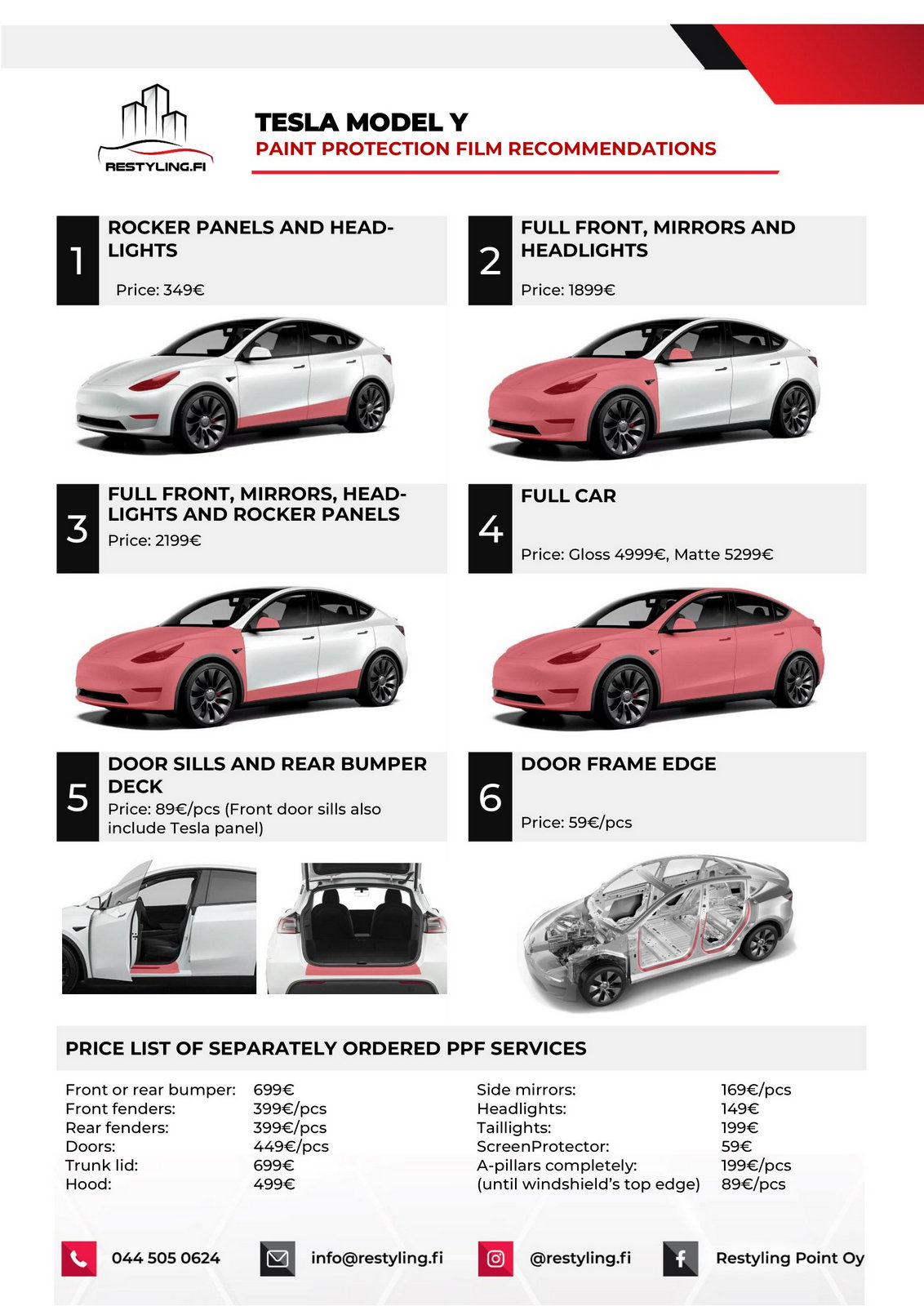 Tesla Model S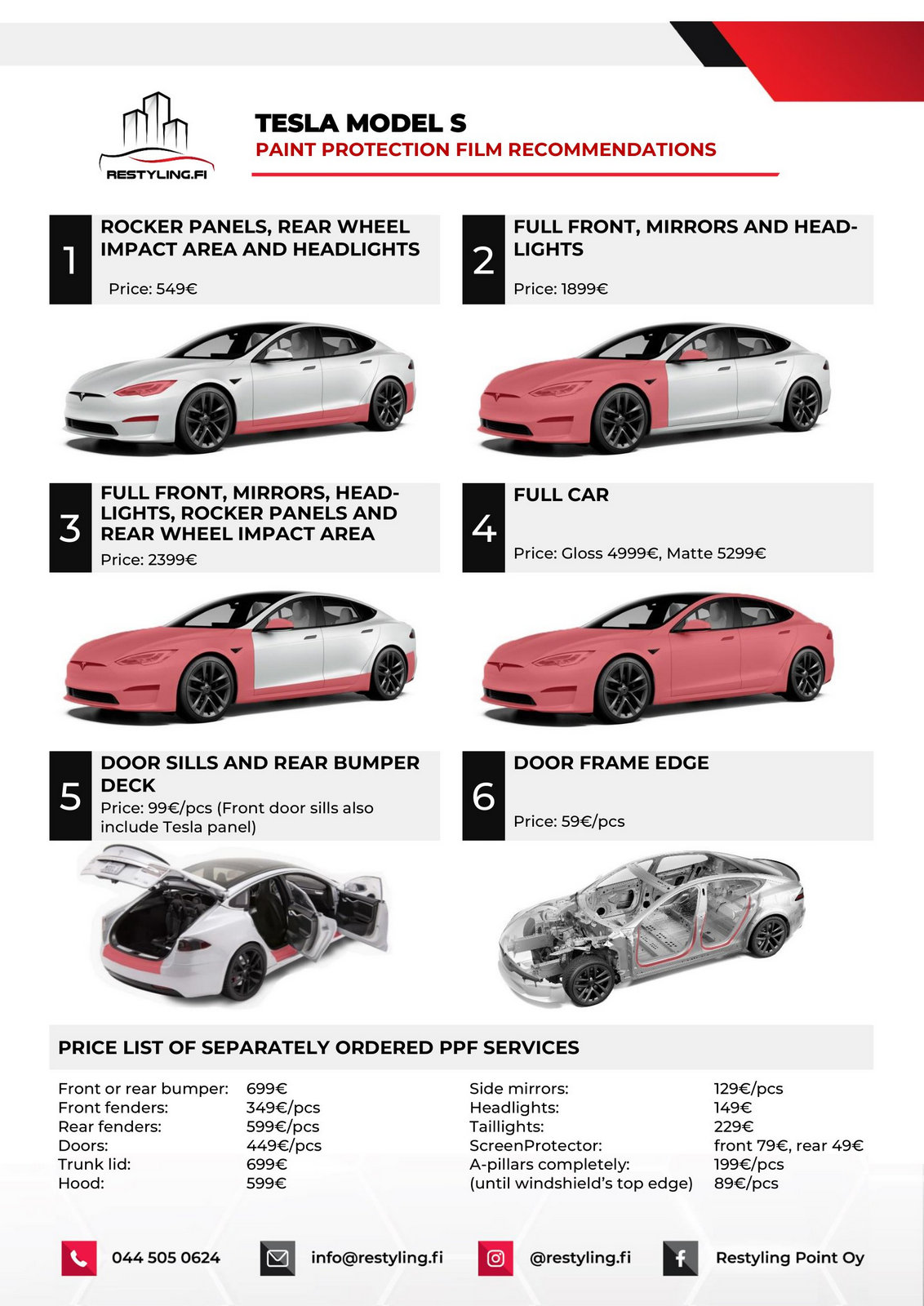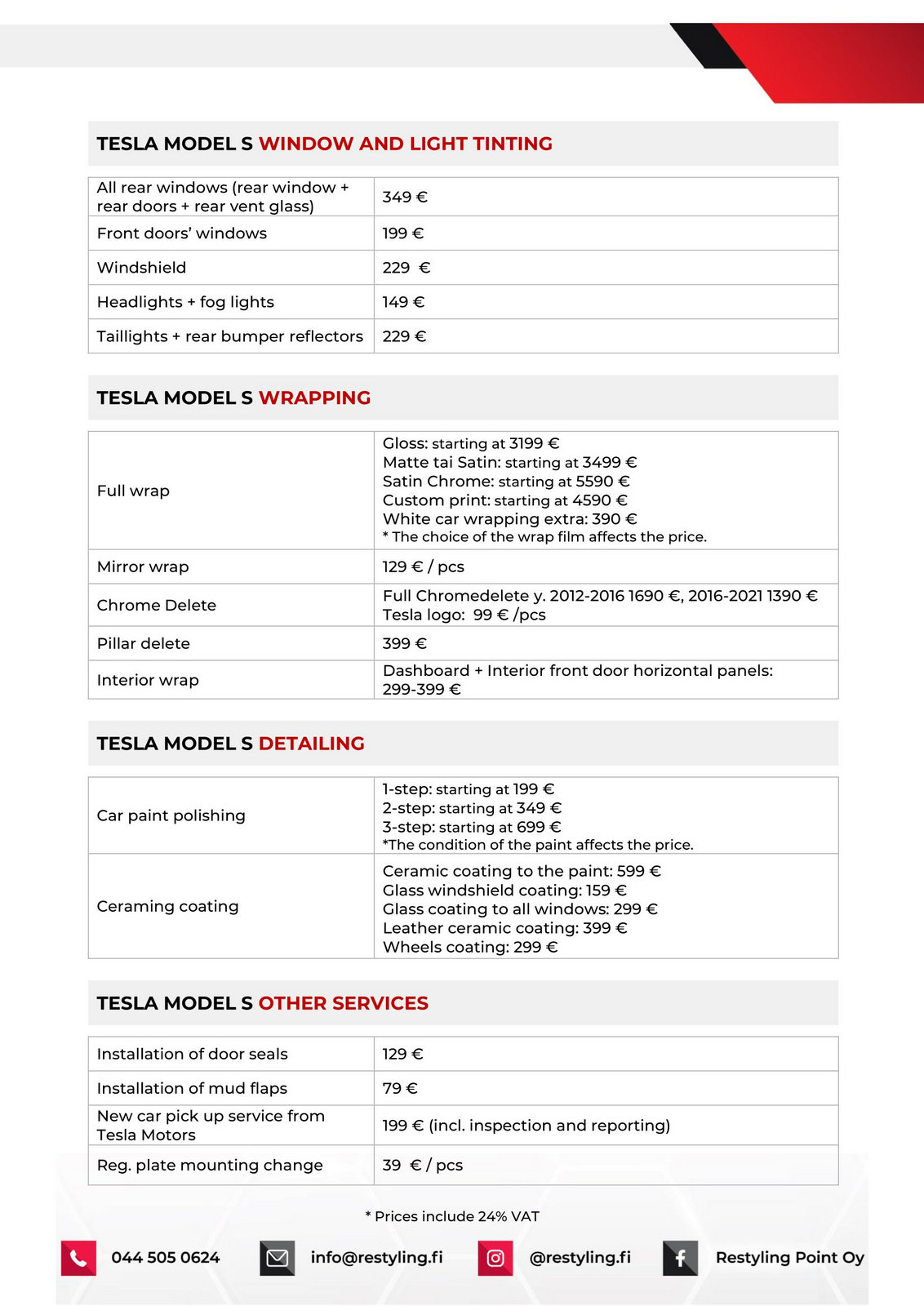 Tesla Model X
There are many car brands and models, and they are all different in their own way. Thus, the price is also determined individually. The price of the PPF installation, car wrapping and polishing is affected by the current condition of the paint surface and the previously done treatments like coatings. The price of the full car vinyl wrap is based on the color/shade of the wrap customer has chosen as well as the color of the current car's paint. The price for the window tinting and light tinting are affected by the object's size and shape.
If you want to know the prices for specific services for your own car, please, contact us.
If the process requires additional work such as old wrap, window tint, glue removal or other preparatory work, our hourly charge is 97€/h + VAT 24% = €120.28 (incl. VAT)
Prices are 'turnkey' prices, meaning, they include high quality materials, professional installation, certified warranty certificate and VAT.